---
Friday, November 12, 2021
Floor Covering Weekly
By Kacey Perinelli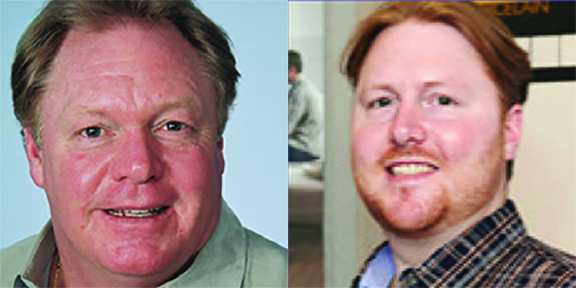 [Roswell, Ga.] American Home Surfaces Group (AHSG) and Commercial USA have been hard at work helping members through the challenges of the last year and looking toward the future. Despite COVID and its related hiccups, CEO Bruce Weber and vice president Joe Weber both agreed that business is booming.
AHSG, which Bruce Weber noted encompasses residential, new home, cash 'n carry and Main Street business is up 22 percent in sales year to date. Similarly, its Commercial USA division (which includes specified, negotiated, new or renovation backlog commercial, healthcare and education) is up 23 percent year to date.
During the height of the COVID pandemic, said Joe Weber, AHSG and Commercial USA helped members with their supplier shipments. "But the suppliers have been under tremendous pressure to keep up with project schedules," he noted.
The groups' tenure in the flooring industry is a great help in serving members, said Bruce Weber. "We are fortunate to now be 25-years old with two separate highly respected Advisory Boards (15 on each). Members have full access to these very successful operations," he said, noting that the groups work to build relationships at the corporate level with key suppliers, which in turn are passed down the chain of command. "In short, we collaborate, collaborate and then more until the goal is achieved," he said.
Growth and change too are part of the groups' story. Explained Joe Weber, "In 2014, we made the decision to diversify into two separate and distinct divisions. We have grown at a 20 percent to 30 percent clip combined in each division per year. On the flip side we have enjoyed zero attrition." In fact, according to Joe Weber, the Commercial USA group's membership as being "the largest commercial specialist group in the entire flooring industry with 210 individual members."
The focuses for members and the areas in which they have been thriving include, Joe Weber said, new home/single family, DIY (cash 'n carry, ready to install rolls, cartons and pallets), existing home remodel (kitchen and bath in particular). "These are the prime usage areas getting the most attention. Ceramic, backsplashes, countertops. Our members purchased over 25 million square feet over the last year of Daltile, Marazzi and American O'Lean floor products," Joe Weber said.
New Platform
The group is also spotlighting its new 5-G Platform. Said Bruce Weber, as we are all moving past "pandemic mode," 5-G will provide members with "a breath of fresh air." He noted it will foster a new level of collaboration, reward a member's positive actions over time, give members bonus money beyond normal loyalty incentive payments, offer members a choice of goals with participating suppliers (the goals will then be handed to the supplier and their local reps), and be customized for all segments.
Bruce Weber said there were lessons learned over the pandemic that inspired the 5-G platform, including the importance of investing in membership's trust, that DIY is not only for the big box stores and that kitchen and bath bring a new level of success. "We introduced our own AKBA division for members to expand," he said.Now is the right time to invest in this new platform, said Bruce Weber, in part because AHSG and Commercial USA wanted its supporting suppliers to know where it will be investing in 2022. As well, he shared, "[There is] no delaying. We are different and innovators offering a unique destiny."