Tuesday, August 4, 2020
Santarossa Mosaic and Tile revitalizes Bottleworks
Commercial USA member called on to bring new life to historic Coca-Cola building

[Indianapolis] The Indianapolis area is about to be taken to the next level with the Bottleworks District opening later this year. This Bottleworks District will include a luxurious hotel as well as a grand theater, office space, shopping and a community focused food and market hall. But the centerpiece of Bottleworks will be its transformation from a historic Coca-Cola location.
The Bottleworks Building was previously a Coca-Cola Bottling Company's facility where Coca-Cola products were formulated and bottled for the Midwest. The building was built in the 1930's and the second phase of the building was in the 1950's. Santarossa Mosaic and Tile, a member of Commmerial USA Group, had installed more than 70,000 square feet of terrazzo products during the time of these two phases. So, owner and developer Hendricks Commercial Group again called upon Santarossa, its frequent collaborator, to bring the building into the 21st century.
Commercial USA member Santarossa Mosaic and Tile is a family owned and operated dealer that has been open since 1924. Established by grandfather Dominic Santarossa, the dealer opened its business with mostly terrazzo flooring and ceramic mosaic tile before expanding its ceramic tile installations to commercial spaces in the 50s, and expanding to natural stone, countertops and fireplaces in the late 1960's.


General contractor Hagerman Construction Co. had worked with Santarossa Mosaic and Tile for more than 25 years. As well, specifying architect Ratio had designed several large projects in the past that were installed by Santarossa Mosaic and Tile, making it a perfect fit to complete the job. Hendricks Commercial provided business spec's for the project while Custom Building Products supplied the setting material and waterproofing.
Originally, 6"x 6" wall tiles were planned for the project. But Daltile's senior commercial field manager Jerry Joyce convinced the owners to select large format panels in all the bathroom hotel showers by coordinating the "FlexFit" spec. That decision led to $400K of Daltile Panoramic Gauged Porcelain Panels being ordered. This equates to 770 5' x 10' panels, totaling more than 39,000 square feet of Panoramic Wall Panels in C12 Diamond Mine.
The project is currently scheduled to be completed in October of this year.
Commercial Case Study
Project: Bottleworks District
Location: Indianapolis, Ind.
Size: 300,000 square feet
Dealer: Santarosa Mosaic and Tile
Products Used: Daltile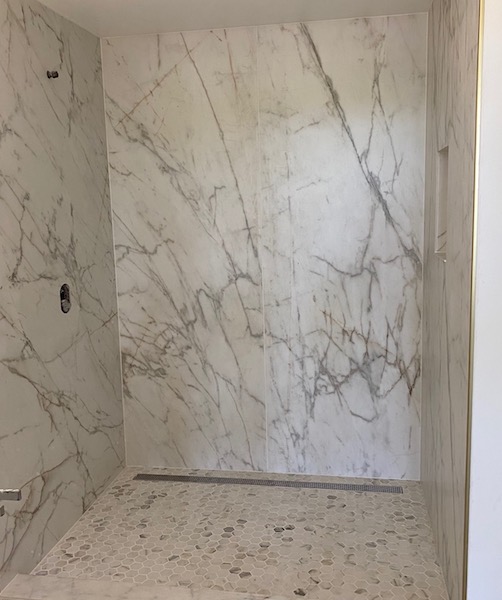 Panoramic Panels were installed throughout this bathroom space including 24" x 24" tiles used on the floor. Wall panels were installed in the shower as well as "2" x 2" hexagon tiles on the shower floor.

Learn more about Bottleworks District in the video below: